Ausdreaming Wandong (Bella)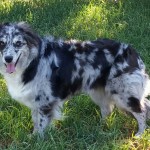 Ausdreaming Wandong (Bella) was born in 2011 and is the offspring of Mazasuka Karnack (Hitch) and Ausdreaming Daniel's Rose of Wildvine (Rosie).
Bella is a very loving dog and is happy to sit around (preferably on your lap) but is much happier diving into the pool to fetch a ball or just playing fetch. Bella has 50% working line and 50% show line.
Bella has been bred to Rozate North by North West (Dude) We expect that Bella's imminent litter will be performance driven and will excel at herding, obedience and agility. The litter is due in April 2015.